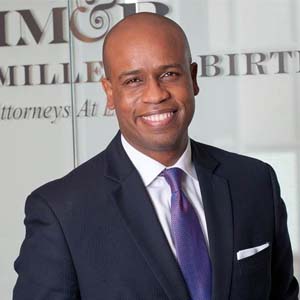 Marlon Hill
Marlon A. Hill is a partner in the firm's Miami office. Mr. Hill is an experienced corporate, intellectual property and government transactions lawyer of over 22 years in an array of areas, including mergers, acquisitions and reorganizations; partnerships, joint ventures and LLC's; closely-held corporations, shareholders' and operating agreements; corporate startup governance and strategic development; trademark and copyright prosecution and licensing; marine contracts including charter contracts, passenger tickets, concessionaire agreements, and maritime employment contracts; and entertainment/arts agreements and contracts. Mr. Hill has also managed the filing of numerous business immigration petitions for investor entrepreneurs (EB-5), specialty occupation professionals (Hl-B), intra-company transferees (L-lA), and entertainers/artists/media talent (P/O).
Mr. Hill serves as outside general corporate counsel to a number of entrepreneurs, corporations, sovereign governments and related agencies, and not-for-profit organizations, especially in the tourism, hospitality, and media/entertainment industries.
Born in Kingston, Jamaica, Mr. Hill has been featured in the Daily Business Review as one of the "outstanding members of the emerging generation of South Florida business and professional leaders." He is a past recipient of the Greater Miami Chamber of Commerce Bill Colson Leadership Award (2016), M. Athalie Range Foundation, Bridge Builder Award (2012) and the inaugural Miami Foundation Ruth Shack Community Leadership Award (2010).
Mr. Hill is one of the Inaugural Fellows in the Miami Foundation's Miami Fellows Initiative; a model of the W.K. Kellogg Foundation National leadership Program. Mr. Hill is a past president of the Caribbean Bar Association (2001-2003) and currently serves as a member of the board of directors for the Miami Parking Authority, Miami Book Fair International, and the Orange Bowl Committee. Mr. Hill is a weekly civic commentator, "The Peoples Politics", on Caribbean Riddims, WZAB 880AM, every Saturday at 4 pm, an op-ed writer for the Miami Herald and Sun-Sentinel covering issues of civic interest, legal concern, and social or cultural impact, and a recurring contributor to WPLG Local 10 "This Week in South Florida" Roundtable.
In addition to building and refining his practice of law, Mr. Hill is a MC/DJ host for local bar association and special events in South Florida.  He is the voice of the annual Kozyak Minority Mentoring Picnic and host of countless weddings for colleagues in and out of the profession.  He also volunteers in his Emmaus Ministry of St. Louis Catholic Church in Pinecrest.